| | | | | |
| --- | --- | --- | --- | --- |
| | | | | |
| V And A Pickleball Paddle Cover Bag | Game-On Pickleball Duffle Bag | Pickleball X Elite Performance Sling Bags | WolfeSports Pickleball Sling Bag | Pickleball-X Series Single Paddle Carry Bag |
| Dimensions:Easily fits paddles of all sizes, 5.6-ounces weight | Dimensions:18-inch Length, 10.5-inch Height, 9-inch Width | Dimensions:15-inch by 19-inch, 15.2-ounces Weight | Dimensions:20-inch Height, 12-inch Width, 6-inch D, 13.6-ounce weight | Dimensions:5.6-ounce weight |
| Material:Waterproof, cushioned insulated inline | Material:Embroidered fabric with Game On Logo, metal backed shoulder strap for durability | Material:Felt lined mobile pocket, padded covering with two lumber pads | Material:Thick canvas material | Material:Padded fabric |
| Color:Black with blue shoulder strap | Color:Lime Green, Red, Royal Blue | Color:Black with yellow zip lines | Color:Black | Color:Black |
| Durability:High durable and water-resistant material | Durability:Extremely durable shoulder strap | Durability:Great durability with padded covering | Durability:Thick padding with padded shoulder strap | Durability:Thick padding and high-quality stitching provide superb durability |
| Usage:Suitable for gym goers who prefer dual paddles | Usage:Perfect for gym goers and casual Pickleball players | Usage:Great bag for official tournaments | Usage:Another superb bag for a single person, not suitable for tournament use | Usage:Suitable for any game |
| Capacity:It can easily fit two paddles of all sizes. | Capacity:This duffle bag is able to fit 2 to 4 paddles. | Capacity:It is able to fit 6 paddles and 6 balls at the same time. | Capacity:Two paddles can easily fit inside the bag | Capacity:It is able to hold a single paddle at most. |
| | | | | |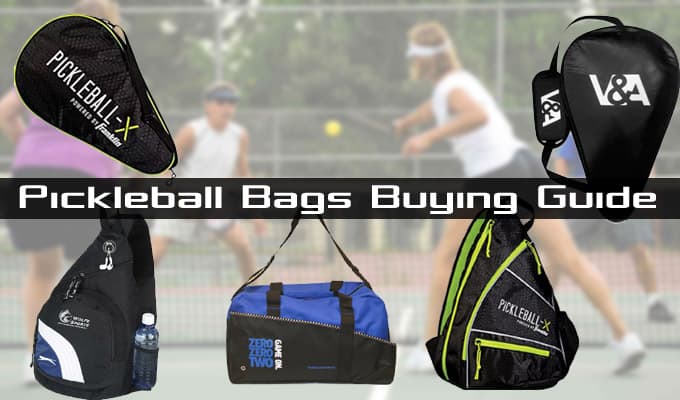 Introduction
Pickleball bags just like tennis and badminton bags are designed to hold all your equipment conveniently at a single place.
Ideally, a pickleball bag would be large enough to hold multiple paddles, pickleball balls and it should have compartments for other necessary items like a towel, water bottle, cell phone, wallet, notebook, etc.
Apart from that pickleball bags must be lightweight with suitable dimensions for paddles and made from a material which is weather resistant.
Shoulder strap design, net hook, zippered pockets, material strength, carrying capacity and side pockets are also important considerations before choosing your bag.
Popular Types Of Pickleball Bags
Based on aforementioned considerations, pickleball bags can be broadly classified into following types:
Paddle Cover Bags
The simplest of bags, paddle cover bags are ideal for players who need an affordable option to keep paddles safe. Typically used by gym goers who do not need to carry pickle balls with them.
Usage: Works perfectly for those who only carry paddles to court. A damaged paddle or edge guard can impact your accuracy, shot power and spin. Cover bags can hold a maximum of two paddles at a time.
Pickleball Sling Bags
Definitely, the most popular, sling bags are preferred for their light weight and single strap convenient design. A sling bag can easily hold more than two paddles and multiple pickle balls at a time.
Front zippered pocket can be added to hold additional accessories.
Usage: A sling bag is suitable to hold equipment for a casual pickleball player.
Pickleball Duffle Bags
Resembling a badminton bag, duffle bags are sought by players because of extra spacious design.
More than four paddles, a dozen pickle balls, towels and a water bottle can be easily adjusted in a single compartment. With side pockets, you get even more options.
Usage: Because of its size a single duffle bag can easily hold equipment for two player team.
Pickleball Backpack
Less popular but more versatile backpacks allow for greatest space. You can easily carry your partner's equipment as well.
Multiple pockets on the inside and outside provide storage for pen holders, car keys and literally everything.
Usage: Backpacks are suitable for professional tournament players.
Additional Important Considerations For Bags
Bag must be made of highly durable material like neoprene or rip-resistant sail fabric. It should also be waterproof with an internal lining for additional protection.
It should easily hold edgeless and edge protected paddles along with handle if possible.
Large pickleball bags should have side compartments and zippered pockets that are easily accessible. A pouch for water bottle is also a must.
V And A PickleBall Paddle Cover Bag
Combining convenience, durability, and water-resistance, V&A cover bag is ideal for those who prefer to use dual paddles.
This cover bag's biggest advantage is its ability to snugly fit two edgeless or edged paddles regardless of their size.
Protective cushioned insulated inline ensures water-resistance. Sleek design with black color, single blue shoulder strap, and single zipper allows for easy carrying of paddles.
The protective covering is also suitable for the rainy weather, ensuring that your expensive paddles remain protected at all time.
Specifications
Dimensions: Easily fits paddles of all sizes, 5.6-ounces weight
Material: Waterproof, cushioned insulated inline
Color: Black with blue shoulder strap
Durability: High durable and water-resistant material
Usage: Suitable for gym goers who prefer dual paddles
Paddles Capacity: It can easily fit two paddles of all sizes.
Game-On Pickleball Duffle Bag
Spacious is the word of the day for pickleball players and Game On Duffle bag delivers just that and much more.
It is distinctive as it contains a huge inner compartment easily able to fit multiple paddles and a dozen balls. You can easily squeeze towels and shoes as well.
An outside slip pocket will help you carry a medium-sized water bottle wherever you go. It is suitable for all heights because of its adjustable shoulder strap.
Specifications
Dimensions: 18-inch Length, 10.5-inch Height, 9-inch Width
Material: Embroidered fabric with Game On Logo, metal backed shoulder strap for durability
Color: Lime Green, Red, Royal Blue
Durability: Extremely durable shoulder strap
Usage: Perfect for gym goers and casual Pickleball players
Paddles Capacity: This duffle bag is able to fit 2 to 4 paddles.
Pickleball X Elite Performance Sling Bags
Ability to carry hold half dozen balls and paddles with additional storage for wallet, keychains, cell phone, 20-oz water bottle, towels and shoes;
Pickleball X Elite Performance bag is a one-stop solution for your equipment. With a shoulder strap and a fence hook, moving the bag around is really easy.
Felt lined mobile pocket and protective padding all around the bag ensures paddle and electronics safety. It is an official bag for US Open Championships.
Specifications
Dimensions: 15-inch by 19-inch, 15.2-ounces Weight
Material: Felt lined mobile pocket, padded covering with two lumber pads
Color: Black with yellow zip lines
Durability: Great durability with padded covering
Usage: Great bag for official tournaments
Paddles Capacity: It is able to fit 6 paddles and 6 balls at the same time.
WolfeSports Pickleball Sling Bag
WolfeSports is leading sports equipment company and their pickleball bags live up to their name.
With multiple internal pockets, cell phone pocket, and external side pouch, this bag can easily hold two paddles, pickle balls, towels, snacks, and other equipment.
The unique feature is its earphone access feature which will allow you to listen to your favorite songs while on the move. Thick padding will protect internal contents from damage.
Specifications
Dimensions: 20-inch Height, 12-inch Width, 6-inch D, 13.6-ounce weight
Material: Thick canvas material
Color: Black
Durability: Thick padding with padded shoulder strap
Usage: Another superb bag for a single person, not suitable for tournament use
Paddles Capacity: Two paddles can easily fit inside the bag
Pickleball-X Series Single Paddle Carry Bag
From Franklin Sports, it is one of the US Open tournament approved Pickleball bags with the capacity to hold a single paddle.
Lightweight casing, high-quality stitching, stylish black look and a net hook makes this cover bag truly stand out. Coming at an affordable price, the fabric is heavily padded to protect your paddle.
Specifications
Dimensions: 5.6-ounce weight
Material: Padded fabric
Color: Black
Durability: Thick padding and high-quality stitching provide superb durability
Usage: Suitable for any game
Paddles Capacity: It is able to hold a single paddle at most.
---
---
https://vandapickleball.com/wp-content/uploads/2018/02/Pickleball-Bags-Buying-Guide-and-Reviews.jpg
400
680
Raymond
http://vandapickleball.com/wp-content/uploads/2018/02/v-a-pickleball-site.jpg
Raymond
2018-02-18 04:16:32
2018-02-24 07:03:03
Pickleball Bags Buying Guide and Reviews for 2018